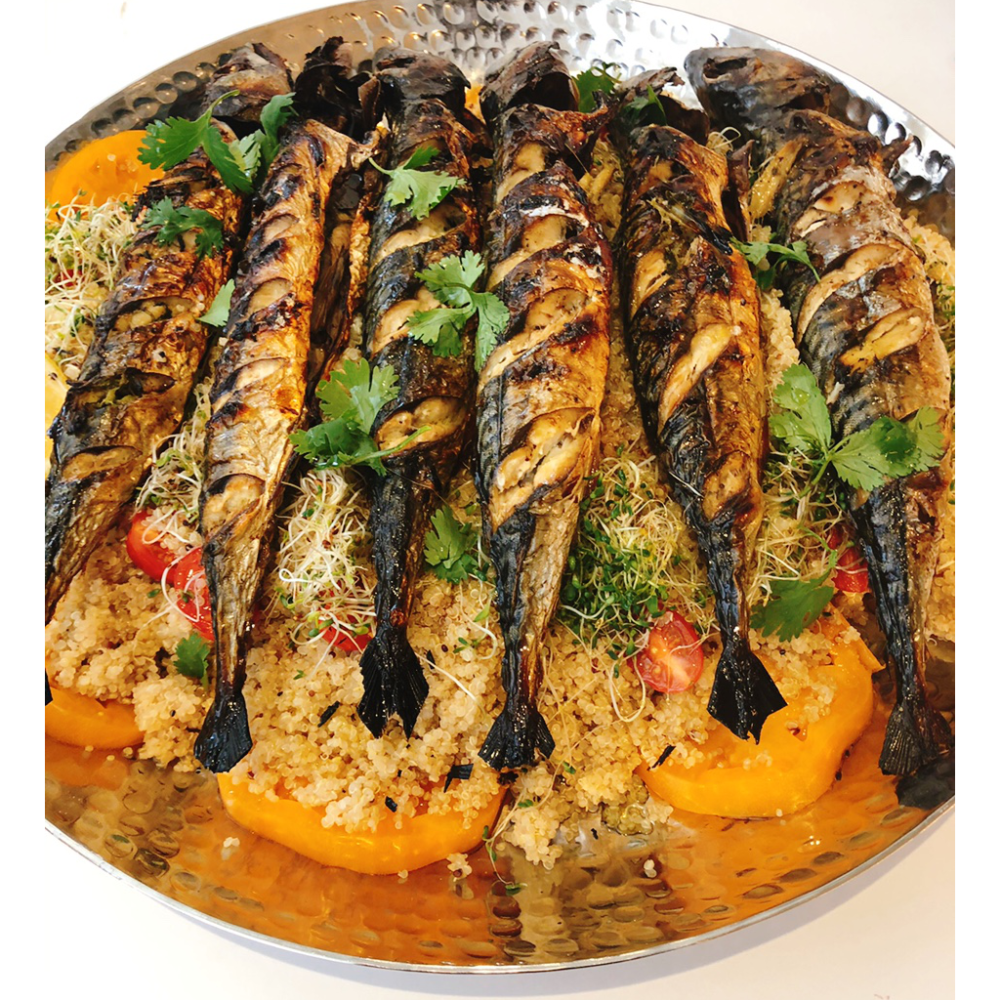 Broiled mackerel with quinoa recipe is one of my favorite fish recipes. You don't feel full after eating this and, of course, it's so healthy. The fish is cooked in the oven on broil. In less than 30 min, your food will be ready. You can eat it with almost anything (rice, quinoa, potatoes, salads).
What is mackerel?
Mackerel is the name given to a number of different species of fish. They can look like torpedo fish with beautiful patterns on their backs. I grew up eating horsed mackerels, which have a very pleasant flavour and an oily texture. I usually fry them with any type of starch and green vegetables.
How do you prepare your mackerel?
The first tip would be to get your fish gutted at the grocery store. If you buy it fresh, you can ask your grocer to clean it for you. If not, you can gut it yourself. I remember learning how to gut a fish…No comment. But I am glad I know how!
Now, let's go back to the recipe. I usually score my fish and drizzle some vinegar or fresh lemon on the fish to eliminate the smell. Make sure all pieces are coated with the juice/vinegar.
Put all of your ingredients in a mortar and start grinding with your pestle. I don't use a blender because it will make it all mushy and, once cooked, you will have big globs of spices that would be hard to remove from the fish. I grind the spices just enough to be inserted in the fish score and inside the fish. Then I cover my bowl with a plastic wrap and put it in the fridge for at least 30 min.
The combination of spices with mackerel is absolutely delicious!
How do you broil mackerel?
Put your oven on broil.
I put the oven rack in the top position and spray a baking sheet with cooking spray. I put my fish in the oven for 10 -12 minutes. Don't go too far; you don't want your fish to burn. Your fish should get dark spots on it, as if it was on a grill. That is normal. You want to have those dark spots with wrinkly skin but not all over the fish.
Take the fish out of the oven and, carefully, flip it over and put it back in the oven for another 10-12 min.
Once your fish is ready, take it out and let it cool a little bit. Then take the spices out of the fish and serve it warm with your quinoa.
This broiled mackerel fish with quinoa recipe is always a hit with my family and guest. A recipe that is also perfect for the summer!
Please share how yours turned out!
Print
Broiled mackerel with quinoa recipe
Author:

Magali Mutombo

Prep Time:

1h15 min

Cook Time:

20 min

Total Time:

1h35 min

Yield:

4

1

x

Category:

lunch, dinner

Method:

Broiled

Cuisine:

World
---
Description
This recipe is good for any type of fish
---
For the fish:
4

mackerel gutted and cleaned

5

stalks of lemon grass (cut into smaller pieces)

1

thump of fresh ginger root peeled

3

garlic cloves peeled

1

bunch of coriander

2

lime (zest and juice)

1

shallot (medium)

1/3 cup

of olive oil

1 tbsp

of salt
For sauce:
1/3 cup

extra virgin olive oil

2 Tbsp

of wine vinegar

1 tsp

of mustard

½ tsp

pepper

½ tsp

salt
---
Instructions
For the fish:
Make four small cuts on each side of your fish.
Put all of your seasonings in a food processor and chop them.
Insert the mixture in your fishes bellies and small cuts.
Drizzle your fish with olive oil.
Put them in a food storage bag and in the fridge for at least 1 hour.
After an hour, turn on your oven on broil.
Put your fish on a baking sheet with a cooling rack. You want the extra water to drip. You can spray your rack with cooking spray to prevent the skin from sticking.
You broil it for 10 min total on EACH side and that's it!
For the sauce:
Put all the ingredients in a glass jar and shake it well.
Assembly:
Put on your quinoa on a plate with the fish then pour the vinaigrette.
---
Keywords: mackerel, quinoa, broiled mackerel, fish
You may also like:
Chicken Yassa with rice recipe
Chickpeas salad with pickled onions recipe