African beignets, also known as mikate in Congo, puff-puff in western Africa, are a very popular dessert/snack in Africa. These beignets come with a mango sauce with mint leaves. They are so delicious; I could eat them at any time of the day. Contrary to New Orleans beignets, the mikate are made with just flour and sugar, which are dipped fried later on.
Both of my grandmothers would make and sell them in front of their houses. I used to wait for the ones that just came out of the fryer and couldn't wait to eat them. I mostly ate them with peanuts or peanut butter.
I have been researching for a while for another condiment that would complement these beignets well. It is not a secret that I love mangoes. So, I just thought of pureed mango and adding herbs to it to bring another flavour. That is one thing that I find amazing about mango. It is so versatile; there are a lot of things that you can do with it. Here is a great mango recipe that you can try.
What yeast do you use for this recipe?
There are so many different ways to make African beignets. Some people use baking powder to help the dough make the perfect round shape. Others prefer to use active yeast and let the dough rest for several hours to triple its volume. Here is a great recipe with active yeast.
The most popular recipe is the one with active yeast. However, I prefer to use self-rising flour for mine. The first reason is because I don't like to wait for hours for my dough to be ready. It is so much faster to use self-rising flour and you don't run into not having your dough rise properly (which has happened to me so many times!). The second reason is that I don't like the taste of active yeast. I feel like the beignets have a strong yeast taste that I don't enjoy. It competes with the flavors from the mango sauce and the combination is not as succulent. Leaving that dough to rise for 4-6 hours only makes the yeast taste stronger.
Again, this is a personal preference. If you don't mind that taste, by all means use active yeast.
How do I make African beignets (mikate, puff-puff)?
It is very simple. I put my flour in a bowl and make a hole in the middle.
I pour the sugar in that hole and start adding the lukewarm water progressively while incorporating the flour.
Once I have poured all the water, I start to vigorously mix the dough. It is a great arm work out! LOL
You will know that the dough is ready when air bubbles start bursting while mixing.In a small pot or fryer, heat up the oil to 350F. The oil needs to be hot but NOT smoking hot.
Start by putting a little bit of dough with your fingers or small spoon. Whatever way you prefer. The hot oil and the yeast from the flour will help from those perfect round shapes. Just try to make a lump before you dump the dough in the oil carefully and gently.
They get fried pretty fast, so once you start making them you should stay put and turn them once in a while to make sure that they get browned all around.
When they come out of the fryer, I put a paper towel on the plate to absorb the extra oil. Do not put on a lid or cover them right away when they are hot because that would cause moisture that would make them squishy.
How do you store African beignets?
Once cooled to room temperature, I put them in an air-tight container. You should eat them in the next 24-36 hours max.
How do you make mango sauce?
I love this mango sauce! You can eat it with fried chicken and fish also. It is a perfect sauce for anything fried in my opinion. This sauce takes 5 minutes to make.
I peel the mango and discard the seed, then cut the flesh in pieces. I add the mint leaves and a little bit of salt to enhance the flavours, and I use a hand blender to puree it. Voila!
These beignets are best eaten warm.
Print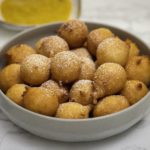 African beignets (puff puff) with mango sauce
Author:

Magali Mutombo

Prep Time:

10 min

Cook Time:

25 min

Total Time:

35 min

Yield:

6

1

x

Category:

Dessert, appetizers

Method:

Frying

Cuisine:

african

Diet:

Vegetarian
---
Description
African beignets (puff puff) made with self rising flour.
---
For beignets
4 cups

of self-rising flour

1 cup

of granulated sugar

1 ½

  cup of lukewarm water

1 Tbsp

of vanilla extract
Mango sauce with mint
1

mango 

4

strings of mint
A dash of salt
---
Instructions
For beignets:
In a mixing bowl, put the flour and make a hole in the middle.
Put the sugar in hole. 
Progressively add your water while mixing everything with the spoon to eliminate any lumps of flour.
Mix it well vigorously, until you see air bubbles forming and bursting on your dough. It means that your yeast is activated. This can take a good 5 min.
Turn on your deep fryer and let the temperature get to 375 F or you can use a small pot with your vegetable oil. 
With clean hands or a small spoon or ice cream spoon, get some batter and put in your fryer in batches.
Do not overcrowd the fryer, otherwise the temperature will drop and they will absorb more oil.
Turn them once they are golden brown. This shouldn't take more than 3 min per batch.
With a slotted spoon, remove your beignets and place them on a dish that has a paper towel at the bottom.
Serve them warm or at room temperature.
For mango sauce:
Remove the skin from the mango. Cut the flesh and put in a bowl. Discard the stem.
Put it in a bowl with the salt and mint leaves.
Mix it with hand blender until smooth.
---
You may also like:
Sorrel (Ngayi ngayi) salad recipe
Homemade light chicken broth recipe
Gluten free mango cake with cassava and corn flour